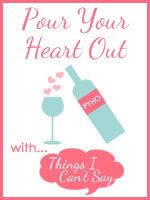 My first pregnancy was a total surprise. I did not pee on a stick. I had no idea that I was pregnant until the phone rang. I had recently had a blood test ran before I was to start on some new medicine. They tested for the pregnancy hormone. The phone rang and the nurse said "congratulations, your numbers are really high, which is a good thing." I remember thinking what is she talking about - why is she congratulating me. I remember sitting my diet coke down on the island and asking her to repeat herself. She said "You're pregnant. That's why you were having your blood tested, right?" My heart started beating so fast, my face got flushed and I scheduled my first OB appointment for the following week.
The day of my appointment - I started to bleed. I googled the shit out of it - scaring myself and convincing myself that this baby that I hadn't even wanted wasn't going to be. They took me back for an ultrasound as soon as I told them I was bleeding. It was the first time I had met the ultrasound tech, Gina, who happened to be a godsend during 2 very high risk pregnancy, she was so calm and reassuring. Even through her small talk as she did the ultrasound I could tell something wasn't right by her concerned face and the amount of time the ultrasound took. On the screen I saw what I assumed was the baby or the beginning of a baby - so I wasn't sure what could be wrong. Finally, she asked if I knew what I was looking at. I didn't really so she went to explain. There were 3 sacs, only 2 had fetal poles, there were no heart beats. I tried to remember what I had read on google - but my brain was still trying to grasp the three sacs, three maybe babies. I left that appointment with not much reassurance. They couldn't say if any of those sacs would turn into babies. I just had to wait and see.
2 weeks later - I had another ultrasound. This time there were only 2 sacs but they had heart beats. twins. we were excited, scared, blessed. then I started to bleed again - nothing was reassuring, i was convinced these babies were gone. Only 3 days after Gina told us that we were having twins, she would tell us that there was only one heartbeat, only one baby, only one Dash.
The emotions were intense, the element of fear very very real but I had a baby to cling to, in the end I would have someone to love. I wish I could say the rest of my pregnancy was uneventful - but it wasn't. Preterm labor started at 20 weeks, the day after we found out Dashy was a boy. There were weekly visits to multiple doctors, bedrest, crazy mediciations and hospital visits. But in the end, we had our baby boy and he was healthy.
I tried to not let myself think about Dash's twin --- about the baby that we don't know. But whenever I see twins around his age - I can't help but think to myself that that could have been us. When I see him talking his made-up language to his imaginary friend - part of me thinks he is talking to his brother or sister. When he is doing something funny or cute - sometimes I catch myself thinking that there could have been 2 of these kids. life would be different. things happen for a reason. mackey would probably not be here. what happens happens and while I don't want to forget, I do not question it and I am grateful for everything that I do have in my life and all the hugs and smiles and kisses that I get from these 2 little blonde boys that fill our home with love.